Slidell Pet Boarding and Grooming
Comfort and Safety for Your Pet,
Peace of Mind for You
Whether traveling for business or pleasure, there is a lot to do and enough stress without having to worry about who is going to take care of your beloved companion. This is especially true if your pet has a chronic or acute medical condition that requires a caregiver with veterinary knowledge and experience.
Affordable Slidell Pet Boarding Services
Rather than rely on a neighbor or pet sitter with no veterinary training, Slidell Veterinary Hospital offers pet boarding for your dog or cat that is affordable, safe, and comfortable. Our caring, experienced staff is dedicated to providing personal attention to your pet and our doctors are on call even when the hospital is closed to address any problem that might arise.
Dietary and Health Needs
We offer Purina EN for dogs and Science Diet for cats, but you are welcome to bring your own food if your pet is on a special diet. Any special health needs, such as medicine administration, food preparation, and exercise requirements will all be reviewed with you. Baths, nail trims, and annual examinations are available upon request while your pet is boarding with us.
Reservations are required for all pet boarders.
Required Pet Vaccinations for Boarding
We require that all boarding dogs and cats be current on the following vaccinations:
Distemper
Parvo
Bordetella
Rabies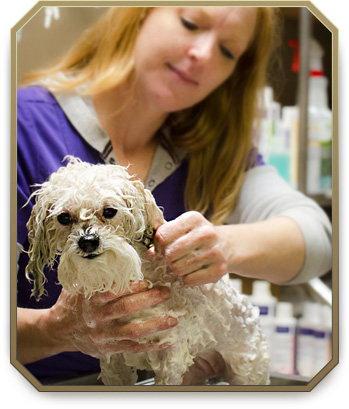 Please vaccinate your Slidell dog or cat prior to the check-in date. If that is not possible, we can provide needed vaccines the day of check-in. If your pet has been vaccinated at another facility, we must have a copy of the current vaccination record in our file (preferably prior to check-in) or your pet will be required to have those vaccines re-administered through our hospital. It is your responsibility to make sure your veterinarian has faxed this record to us and that we have received it.
In order to protect the well-being of the pets in our care, we reserve the right to refuse any pet for boarding that may have a contagious illness or other problems. We do not board during hurricanes or other mandatory evaculation situations. We require that an emergency name and contact phone number of a person available to pick up your pet if the occasion were to arise be provided at check-in.
Baths and Nail Trims
Bathing your pet and trimming his or her nails is more than just a bit of pet pampering; it is an important step in keeping your pet happy and healthy. Regular baths and nail trims help remove harmful germs from the fur and paws that are picked up as your dog plays outside. It also provides an opportunity for us to notice and treat dried or cracked paw pads and observe skin issues.
At Slidell Veterinary Hospital, we also know that a good bath and nail trim makes your pet feel great and adds to his or her overall well-being. Give us a call today at (985) 643-4822 to schedule an appointment for your furry companion!
Contact Us
For more information about our boarding and grooming services, please email Slidell Veterinary Hospital or call us at (985) 643-4822. We are always happy to answer any questions you may have.